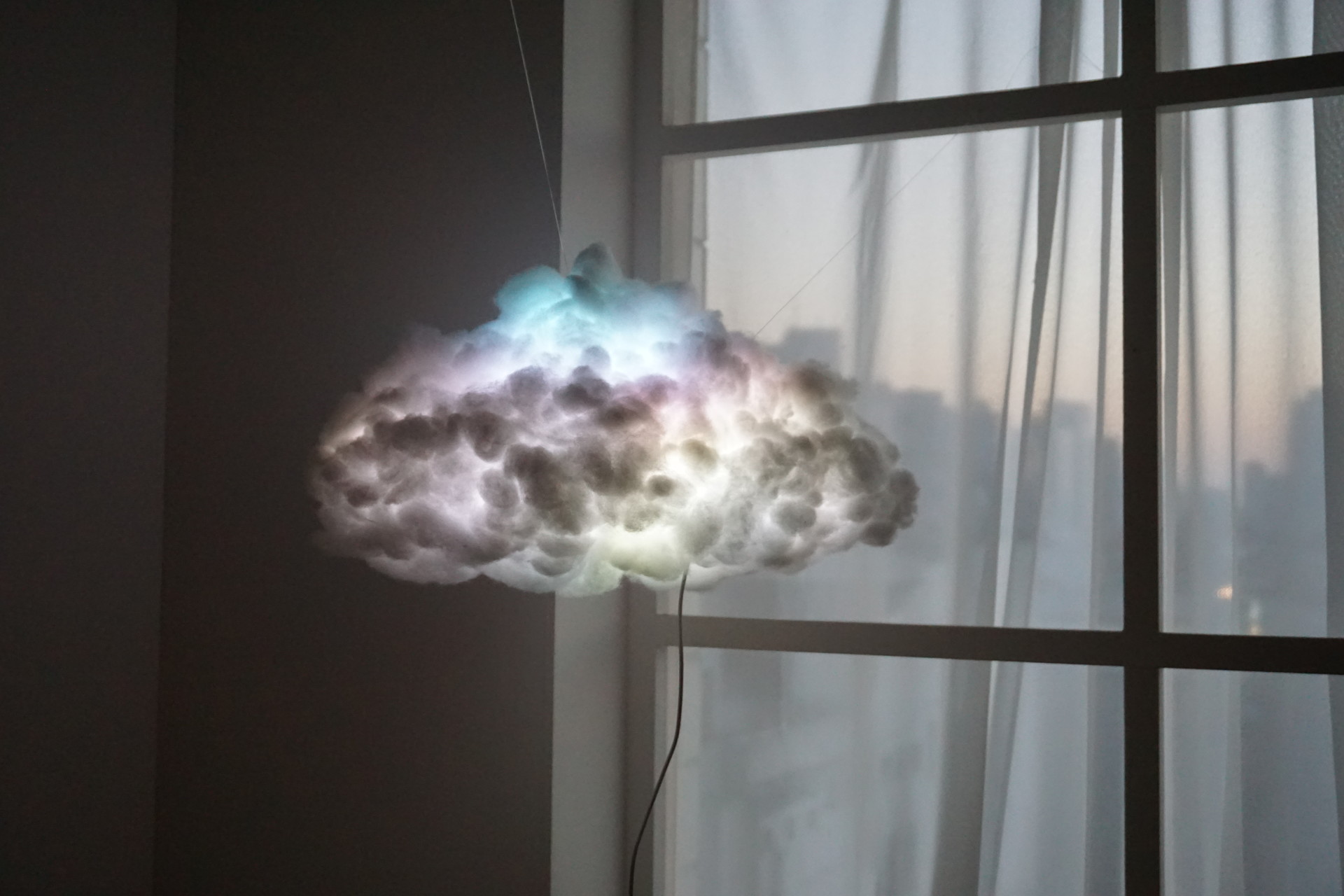 Chae-Un : Five-colored cloud Light(2021), hanging lighting fixture.
All products by Design OWNN, Handcrafted (C)2023. Design OWNN
About
It's a plumpily five-colored glowing cloud mood lamp.
In korea, symbloric an auspicious energy, filled with five-colored clouds(Chae-Un) that bring happiness.
Chae-Un form made by weaving the wires together and weaving cotton of different sizes on top of the wire shape.
It's a mood lamp that expresses the natural texture of real clouds.
When the turn off the light , it becomes a cloud of white.
When you turn on the light, the color becomes a five-colored cloud with layers of overlapping colors.
you can see pastel five- colored color.
You can use it as a soft mood light.
Plumpily clouds is light weight,
so you can put it on the desk or hang it on the wall or ceiling.
With a piece of colorful clouds giving a warm glow,
I hope it's a little healing to tough day, tired heart.
Shape & Size
The basic shape is clod like in the picture.
The basic size is 26cm width, 18cm depth, 16cm height.
Since it is handmade, there is a gap of 1~2cm each.
Functions
Power control by switch, can be turned on and off.
Because it is connected by USB, you can connect the charger, pc, anywhere.
Because there is little heat from the LED light bulb, no risk of fire even if you leave it on for a long time.(8hr)
Purchase
IDUS - idus.com/designownn
Etsy - www.etsy.com/shop/designownn
Naver - smartstore.naver.com/designownn
Materials
Metal Wire, Cotton, LED, PLA